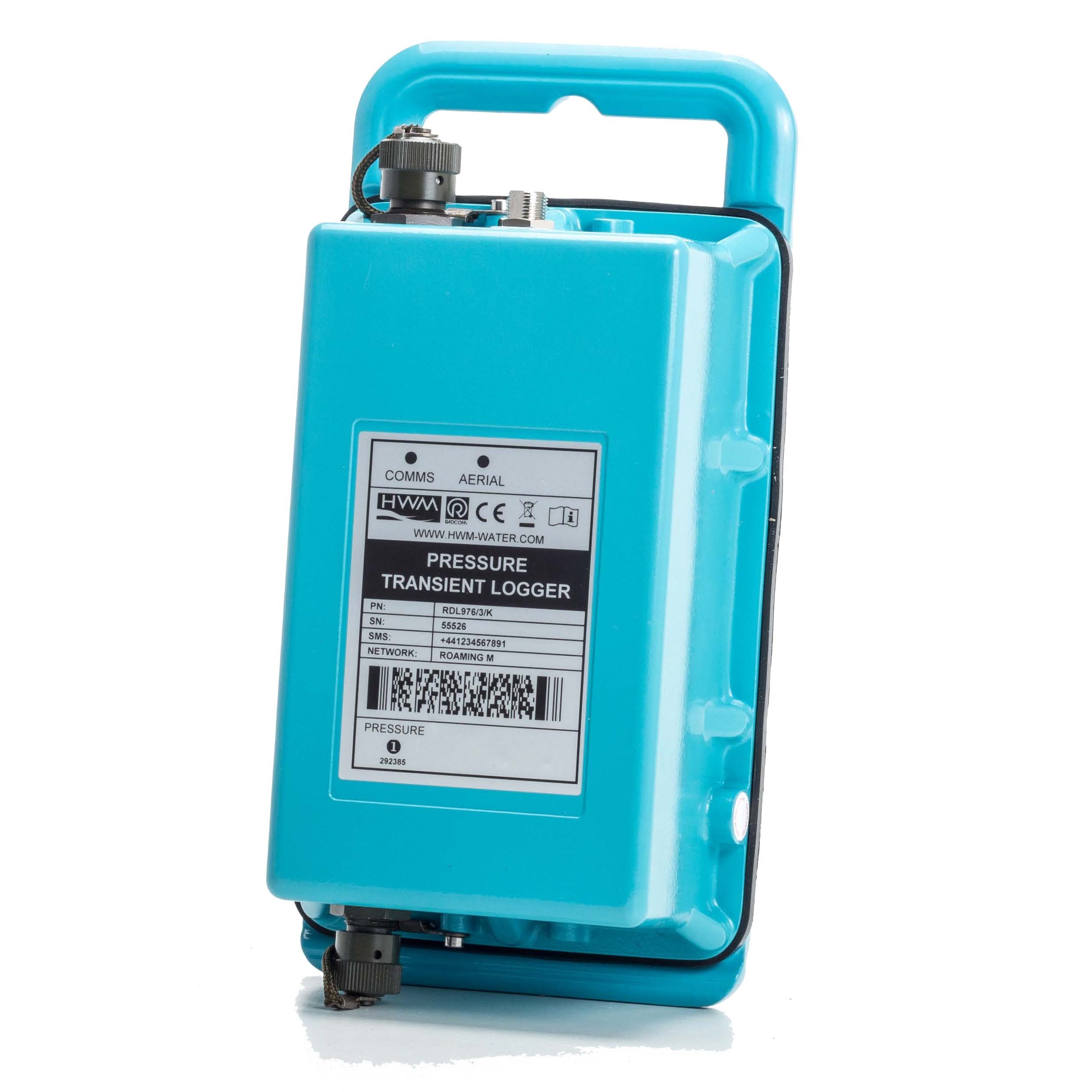 Pressure Transient
HWM
Pressure Transient is a professional data logger that monitors rapid pressure changes in a pressurized water system. This instrument is only available in a portable version.
ACCELERATED LOGGING WITH REMOTE TELEMETRY

Fast logging to identify and address pressure transients in the distribution network has become accepted practice. However, due to the large volumes of data involved to date this has been a survey and manual download operation.
With advances in GPRS communication and innovative 'event window selection' (EWS) the operator can now send transient alarm information and a selectable window of fast logged data before and after the event, or for set time based windows.
Network transient logging is no longer a purely survey operation but can now be part of permanent network monitoring as for standard flow and pressure logging. Transients are immediately identified so remedial action can be taken, avoiding burst and infrastructure damage.

VERSATILE (ENHANCED NETWORK LOGGING)

Flow and pressure channels can be added to log other network parameters (Enhanced Network Logging), for comprehensive transient and general network monitoring. Sampling can be operator selected through a wide range of options to 100 samples per second. The full range of HWM external battery packs can be connected to power accelerated dial in regimes and extended periods of maximum sample rate. These can simply be exchanged on site as required.

ROBUST AND UPGRADED

The unit is supplied in a rugged IP68 case designed for long term field deployment. The external pressure sensor supplied as standard is 0.1% accuracy calibrated and rated to 30 bar allowing for high level transient events. The local communications have been upgraded to high speed USB for faster download of the upgrade 4GB flash non volatile memory
KEY BENEFITS
Fast logging capability – up to 100 times per second, ideal for transient monitoring changes
GPRS transmission of data
EWS – Event Window Selection to select data around transient for transmission
Flash memory 4GB – 130 weeks at 25/second
Completely submersible (IP68)
External battery packs to support accelerated logging & dial-in regimes
Long Life
Specialist software supplied to enable detailed analysis
Sensor Input Options
Analogue


External Pressure Transducer.

Supplied with quick fit connector

0-30 bar, accuracy ± 0.1%

Memory


4 GB internal flash memory enables

up to 2 billion readings.



Communication
| | |
| --- | --- |
| USB | USB 2.0 connection by MIL connector for connection to PC or Tablet. |
| Internal cellular modem | GPRS can send data down to every 5 mins, with appropriate external power source (eg battery pack) |
Logger Features
| | |
| --- | --- |
| Frequency | Standard data logging – 1 sample per second to 1 sample per day. Fast logging – 1 to 100 samples per second |
| Logger ID | Up to 8 alphanumeric characters |
| Clock | On board 24 hour real time clock with date facility. |
| Dimensions | 199H x 125W x 66D mm (7.7"H x 4.7"W x 2.8"D) |
| Construction | Die-cast aluminium enclosure |
| Weight | 1.6 Kg (3.5 lb) |
| Operating Temp | -20 to +70°C (-5 to +160°F) |
| Ingress protection | IP68 |
| Power | Lithium-Thionyl Chloride cell operational for 1 to 5 years depending on usage External power input (+12V or HWM battery box). Battery boxes to support more frequent dial-in and long term accelerated logging |
| Alarms | Minimum or maximum duration triggered threshold alarm per channel. 16 Alarms per logger. Each alarm out comment field 16 characters User definable threshold transient alarm. User selected window of data around transient transmitted with alarm |