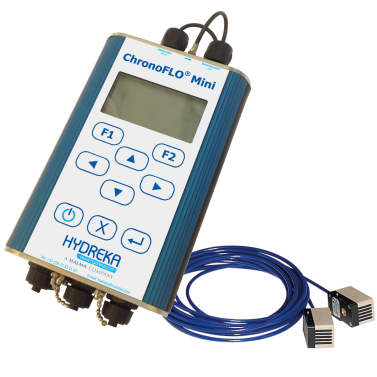 Chronoflo Mini
Hydreka
The HYDREKA ChronoFLO Mini flowmeter uses the principle of measuring ultrasonic wave transit times to measure flow, and therefore does not intrude on pipe systems under charge.
The ChronoFlo flow meter is housed in a waterproof case, with military-type connectors. As standard, it has 1*4-20 mA intput, 1*on/off output (alarms, sampling or connection to SCADA systems), an external power supply input and a USB connection (data recovery and program duplicating)
The flow meter is equipped with a data recorder that can record more than 400,000 values, which can be processed with spreadsheet, and can operate in full standalone mode for several weeks.
The flow meter is usable for both treatment (water and sludge) and drinking water. Its applications include checking fixed station flow meters (DEM, etc.), analysing raising pumps, diagnosis, etc.
KEY APPLICATIONS
Diagnosis of drinking water and wastewater networks,
DMA (leak detection monitoring),
Checking existing flow meters,
Calibration of lift pumps,
Volume quantification
Measurement range

Two-way up to 25 m/s (82.02ft/s)
Certified measurement for MEAS value < 20% in the fluid

Accuracy
In steady-state flow:

±1 to 2% of the reading without calibration depending on the application
±0.5% of the reading with calibration

Standalone operation
25 hours continuously or 3 weeks in low power mode with measurement/minute
Memory
416900 data points
Power Supply
Rechargeable lithium polymer batteries
Communication
By Mini USB - USB cable (text file), Data can be directly import into a spreadsheet
Weight
Kit: 2.9 kg
Dimensions

1 MHz sensors: 75 x 30 x 45 mm (0.25 x 0.0098 x 0.15 ft)
CPU: 182 x 115 x 34 mm (0.60 x 0.37 x 0.11 ft)

Installation

Mounting rail with chains for diameter < 2000 mm (6.56ft)
Optional: Straps for large diameter or magnetic adapters for metal pipes

Standard kit

Central unit, power supply and shoulder strap pair of 1 MHz clamp-on sensor and mounting rail
Couplant, retractable tape, bubble, USB <--> USB Mini adaptator and transit case