Athenea Chlorine Monitoring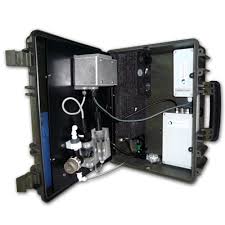 Athenea Chlorine Analyzer (DISCONTINUED)
HWM
Athenea is an autonomous chlorine analyser for the Water Distribution network. It provides regular continuous monitoring and sends automatically via GSM telemetry, thereby reducing the need for time consuming and costly on site "spot" testing. The amperometric chlorine analyser allows continuous chlorine monitoring at specific points in the distribution network without the need for external electrical power, and the system uses low power consumption electronics in order to optimise battery life.
The product uses proven amperometric technology for chlorine measurement, and also records pH and temperature levels for complete and accurate analysis. By using an innovative power-saving process, battery life is maximised and a full charge will power the analyser for at least 6 months. By drawing fresh water from the network for each reading, results are always current, and as no chemicals are used in the test the water can be either re-introduced into the network or siphoned off as waste.
The result is a system that requires no external power source, can be deployed anywhere, sends results automatically to a chosen remote location, and produces accurate results comparable to those used at a mains-powered treatment works. Athenea is therefore ideally suited for installation in tanks, reservoirs and non-powered network locations. A portable version, housed in a Pelicase, is also available for survey use, where the unit's waterproof IP68 rating could prove particularly useful.
The analyser can be calibrated and programmed remotely, and operates at a range of 0-20ppm, effective within 0-50 degrees Celsius and pH 4-8. Logged readings are then transmitted by a Radcom datalogger using GSM/SMS telemetry, providing open-protocol results compatible with any SCADA system. Athenea has already been extensively tested in Spain, where over 50 units have been deployed successfully in numerous cities. HWM also has a demonstration system installed at their test site in Cwmbran (South Wales), where interested parties are invited to view it in action and find out more about the features and benefits it can offer.
| | |
| --- | --- |
| Dimensions of Analyzer | 250 x 175 x 90 mm |
| Dimensions of Data Logger | 190 x 115 x 75mm |
| Weight of analyzer/datalogger | 3kg approx/ 2kg approx |
| Operating Temperature | -10 ºC to 55 ºC |
| Cable inputs | IP68 military connectors |
| Construction | Aluminium case IP 68 |
| pH Measurement Range | 0 to 14 |
| Chlorine Measurement Principles | Amperometric selective membrane |
| Measurement range | 0 - 5, 0 - 10, 0 - 20 ppm |
| Measurement Resolution | 0.01 ppm |