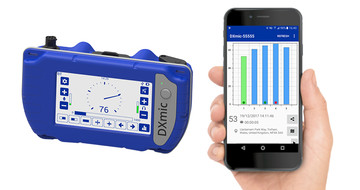 DXMIC PRO APP
HWM
The DXmic Pro app is a mobile application developed to simplify the process of data retrieval from DXmic Pro devices.
hrough the app, DXmic Pro users can immediately share downloaded audio files and site reports, removing the need to physically return to a desktop PC. Data is now sent via e-mail or remotely uploaded to DataGate.
The DXmic Pro app also supports the addition of accurate GPS locations to every recorded measurement and audio recording.
APPLICATIONS
The DXmic Pro app is available on Android and iOS devices with a Bluetooth connection.
Note: The DXmic Pro app is only compatible with the DXmic Pro. Standard DXmic units will require an upgrade, which can be found by clicking here.
KEY FEATURES AND BENEFITS
Remote reporting: immediate data transfer removes need to travel to office from site.
Accurate locations:GPS information, images and notes can be added.
Remote audio sharing:audio files can be used for training and expert assistance at distance.
Intuitive interface: data is clearly displayed and easy to browse.
Recording management: data shared easily via e-mail or DataGate upload.
Audio playback: local audio playback is possible when the data file is present.
Live geotagging: record the position of a measurement or add geographical locations afterwards.