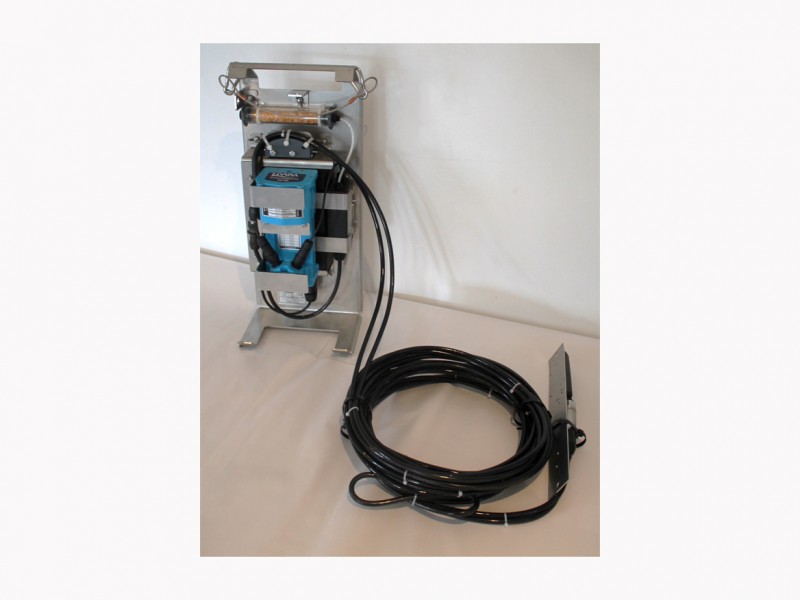 Intelligens
HWM
The demands on our existing wastewater networks are many and varied. Urban areas are expanding rapidly in order to meet the demand for new housing. This directly affects the quantity of wastewater that enters the system from households and reduces the capacity of a sewer to cope with flood events. In addition, we also have to factor in the loss of permeable surfaces through drained area creep in both urban and rural areas. This extra volume of rainfall can overload the system particularly when connected to the foul sewer. Finally, climate change is projected to bring wetter winters and longer high-intensity rainfall further increasing the risk of sewer flooding.
The benefits of long term flow monitoring within the wastewater network include a reduction in both frequency and impact of pollution events. Permanent installation of remote monitoring equipment helps to alert network operators to immediate problem sites. It also improves understanding of the network performance and delivers real data to assist with the development and testing of advanced network models.
APPLICATION
The Intelligens Flow is a flow monitoring system designed for use in a variety of wastewater applications including foul, combined and storm water sewers. Fitted with an integral GSM/GPRS or 3G modem and certified to ATEX/IEC Ex Zone 1, it can also be used for general applications including open channel, river/stream and outflow. Suited to both permanent and short term flow surveys, the components are fitted to a rugged stainless steel 316 framework which both protects the equipment and allows for easy installation and transport.
The system records data using a combination of sensors. The mean velocity is determined using a Doppler-effect sensor located in the stream flow. This emits an ultrasonic beam which is reflected by particles or bubbles in the water. The recorded signal is analysed and the frequency shift determined. The integral temperature probe then allows for speed of sound corrections to be applied and the velocity derived.
The advanced sensor also monitors and reports signal quality to allow for remote diagnostics and troubleshooting. Water depth is recorded using a piezo resistive probe. Alternatively, the level can be recorded using the Sonic Sens 2 ultrasonic level sensor. Level to area conversion tables are automatically calculated during the commissioning phase. This information is then used to derive the flow both on-site and/or at the data collection server.
The Intelligens data logger is housed in an IP68 enclosure and fitted with an integral 2G or 3G modem and user replaceable battery pack allowing for 5+ years data collection and transmission under standard conditions. The large capacity external battery pack powers the Doppler sensor and allows for 2 years operation (at a 2 minute logging rate) or 5 years (at a 15 minute logging rate). An advanced alarm regime can be configured for each channel. Threshold conditions can also be set which will trigger faster logging and accelerated data transmission during alarm conditions.
KEY FEATURES
Permanent and Short Term Flow Surveys
Complete System - IS ATEX / IEC Ex Zone 1
Integrated GPRS Telemetry, 3G Telemetry (Optional)
Advanced Alarm Regimes with Accelerated Call In
Compatible with DataGate Data Delivery Systems and HWM-Online Web Viewing Platform
Doppler Velocity and Hydrostatic Depth Sensors
GPRS Signal, Temperature and Battery Levels To Assist Deployment, Management and Maintenance
5+ Years Data Logger Battery Life
5+ Years External Sensor
Fully Waterproof to IP68
External Non-Corrosive Antenna
User Replaceable SIM, Logger Battery & External Sensor Battery
Additional 4 Digital Inputs
Optional Float and Ultrasonic Level Sensor
Sensor
| | |
| --- | --- |
| Measuring Principle | DSP Doppler using twin 1 MHz transducers |
| Range | Bi-directional 0.01 to 5 m/s (0.03 to 16.4 ft/s) |
| Minimum fluid level | 15 mm (0.59 in) to 20mm (0.79in) above base of sensor, provided transducers fully wetted |
| Operating temperature | -20 to +60°C (-4°F to 140°F) |
| Dimension | Polyurethane, PVDF, 316 Stainless steel 19H x 46W x 122L (mm) |
| Weight | 1.1 kg including cable |
| Ingress Protection | IP68/ NEMA6 |
| Rating | ATEX & IECEx certified to Zone 1 |
Logger Features
Sensor Input
Doppler-effect velocity sensor and Piezo resistive depth probe. Up to 4 user configurable pulse/status inputs
Memory
Primary recording 2 million readings
Future proof in field local and remote upgradable software
Analogue
Variable sample rate 5s to 24hrs
Communication
GPRS to HWM DataGate or customer specidic server. SMS Backup. Quad band modem optional 3G Modem
Operating temperature
-20 to +60°C (-5°F to 140°F)
Rating
ATEX & IECEx certified to Zone 0
Dimension
Tough ABS plastic enclosure (mm)
200H x 97W x 88D
Weight
1kg
Ingress Protection
IP68/ NEMA6